Pop Up¶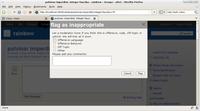 Moderation Panel Display¶
We are doing a hulu style rollover box
reason for flagging
who flagged
comment
Round 3
only change: info icon closer to title
| | |
| --- | --- |
| 1 comment | 3 comments |
| | |
Round 2
| | |
| --- | --- |
| 1 comment | 3 comments |
| | |
Round 1
| | | |
| --- | --- | --- |
| 1 (square) | 2 (rounded) | 3 (no comment) |
| | | |
| | | | |
| --- | --- | --- | --- |
| 4 (bg colors mimic page header1) | 5 (bg colors mimic page header2) | 6 (long format) | 7 (long, no comment) |
| | | | |
meghana, nice, thanks for these. i talked to kclair, here are some comments.

i like long version, but kclair pointed out this will be a problem since more then one user can flagg, and comment. so lets go with the short version, but minimize / or remove the big "flagged post" title. its a little redundant.
rollover popup doesnt stand out enough against background – i like hulus black border and greyish background
i like the little flags at the top :)
not a fan of rounded corners for these, but dont really care so much either way.
as per prior conversation, there should be a little link or icon at the beginning of the row that says, "details" – just so its super clear where to get this info from.

agreed with daniel about moving "details" from the box to the listing.

daniel: just don't use firefox and you won't see the rounded corners ;-)

looking good! i like the icon in its own column. it should be closer aligned to the title.

where can i get these icons?