How to purchase hosting, domain name, and 1-click install Word Press from Lithium Hosting¶
Step 1:Register @ Lithium Hosting¶
To begin, go to the lithumhosting website.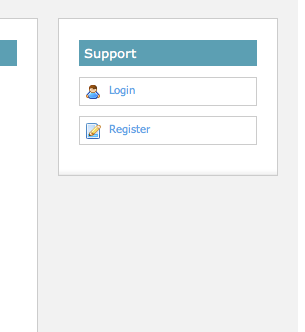 We will then click the register button as shown above.
After registering go ahead and login.
Step 2: Finding a Domain name and registering¶
We will now look for a domain name. Pick a name that is directly related to your project, because this will be the name that others will insert to reach your website. Another site to check whether or not your site name is taken is, http://www.whois.net/.
We first have to click on products which is on the menu bar. This will give us the option of clicking on Shared Hosting
We can now proceed to lookup a domain place that has not been taken. Once you have found a domain name that is available and to your liking proceed to the checkout.
Step 3: Confirmation Email and cpanel¶
You will now receive an email from lithium hosting confirming that you have purchased this domain name.
This email is important, it contains the password for the domain name you have just created.
You should next go www.(the domain name you choose).com/cpanel
You will be asked for your username and password here.After entering it you can proceed to your cpanel(Where you will manage(need a better word) your website).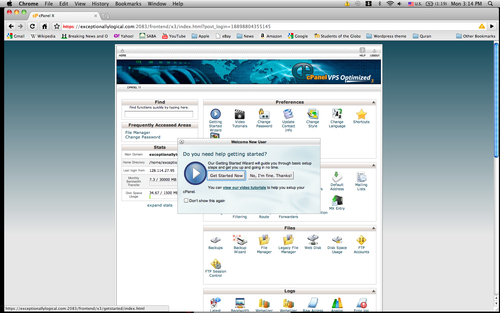 If the screen shot above looks like the page you are at, you are doing great!
Step 4: Wordpress installation¶
Now to install Word Press, Scroll down to the databases section. In this section we will see the Fantastico De Luxe tool.
Click on the Fantastico De Luxe tool and it will redirect you to another page.(Shown below)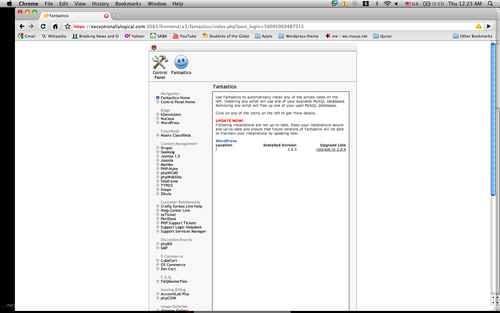 From here, look in the left hand column and you will see a wordpress link(under the blogs section) which will install a version of wordpress for you.
Step 5: Using Fantastico De Luxe¶
Next, click on New Installation
Suggestion-_For the admin email you should put your most used email _
From here it will be two more simple steps.
Step 6: Final Wordpress setup¶
After you have installed wordpress type in www.(your website name).com/wp-login
This will take you to the front of the wordpress page in which you can finish up installing wordpress!!
Note: There are many applications that can install wordpress in one click. You can install it manually, however this is much more tedious but can be done.
I like the screenshots, but I don't think it would hurt to have one in every section.

Is the domain registration come with a fee? It would help to make that clear.

And what are the "two more simple steps" in Step 5. I know it's tedious, but making everything painfully clear and laid out is what makes a good tutorial.