Large Protests Erupt In Support Of Tamils¶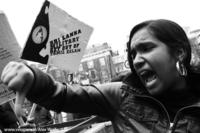 Spontaneous protests have erupted in London as a result of the ongoing state violence in Sri Lanka. On Monday, over 500 Tamil youths blockaded Westminster Bridge, which remained closed overnight. On Tuesday and Wednesday large numbers gathered outside parliament and had reached at its peak up to 3000 to call on Gordon Brown to 'open his eyes' and work towards securing an immediate ceasefire in Sri Lanka. Under the banner 'Stop the genocide of Tamils in Sri Lanka' a protest march has been called for Saturday 11th April at 1pm in Central London.
Police tactics were again violent, with unprovoked attacks on demonstrators. On Wednesday morning Tamil flags were being confiscated under the Terrorism act. Demonstrators reported that police used truncheons and dragged protesters across the ground. A three-year-old's leg was reportedly broken in the process. Seven people have been arrested, two under the terrorism act on suspicion of carrying articles supporting proscribed literature.
More than 300,000 Tamils are currently under siege by the Sri Lankan forces. Aerial bombardments and shelling of civilians are continuing. Women, children and elderly are dying as a direct result of the aerial bombardment. There has been increased violence in Sri Lanka following the capture of Tamil territory. It is estimated more than 70,000 people have already died in the conflict.
On the newswire: Tamil protest still going strong / 8th April 3pm | Tamils protest against chemical attacks | Tamil protest amid more police violence | A lively night in Parliament Square | Tamil protest still going strong /continues | Tamil Protest still going strong | Tamil Protest on Westminster Bridge | Sri Lanka: Killings, Concentration Camps and International Silence
Around the world: Netherlands | South Africa | New Zealand | Scotland
Links: British Tamils Forum | Sign the petition | Wikipedia on Tamil people
It has been a turbulent few days outside parliament with many hundreds of Tamils gathering and unwilling to move until their demands are heard. On Monday, about 200 Tamil's (many carrying Tamil flags) blockaded Westminster Bridge for many hours. The protest was loud but peaceful. TSG arrived and the protest was kettled in for a few hours in the early evening. About half of the demonstrators were youngsters on their school holidays. Although police have tried to clear the area outside parliament, Tamils have remained in place throughout Monday night, Tuesday, Tuesday night en Wednesday. On Wednesday evening the numbers had reportedly reached up to 3000. The protests were instigated by Tamil youth groups acting independently of the more established British Tamils Forum. The latter is organizing a demonstration at Embankment at 1pm on Saturday 11th April.