IAC

-HQ, the early days (Feb. 2007), the people's campaign against Arvind Kejriwal's corruption.¶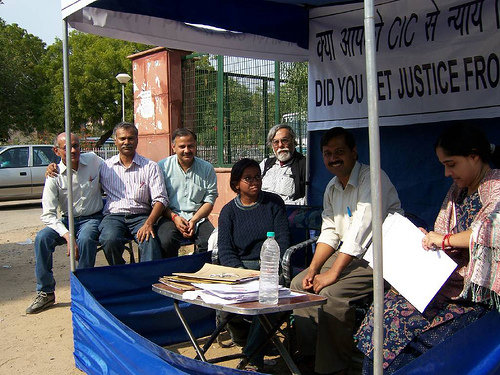 (L-R) India's 5 greatest corruption experts – Commodore Lokesh Batra (bringchange), Sarbajit Roy (National Convenor,IAC-HQ), Manish Sisodia (Convenor, Kabir), Shekhar Singh (Convenor, National Corrupt People's Representation in India or suchlike "NCPRI"), Veeresh Malik ( IAC's photographer at large – not in pic) gherao (surround) Arvind Kejriwal's illegal kiosk outside CIC HQ which he had bribed the cops Rs.2,000 not to remove.
Not only was the kiosk illegally set up in violation of policy guidelines issued by the Central Vigilance Commission (India's main anti-corruption agency), the Delhi Police's vigilance inquiry revealed it was set up on government land by Arvind's NGO Parivartan without taking any permission.
The IAC's intervention resulted in the setting up an exclusive RTI Cell (@ "VIP Lounge") for lady IAC members who were being "hounded" for filing complaints against RTI touts whose Right to know extends to Right to tell – in NBSAP style consultative process, likely to be facilitated if the rest of us occupy ourselves with using RTI to spam the system (likely to be facilitated by the persuasive group mails with Act and Form-A that have already begun)..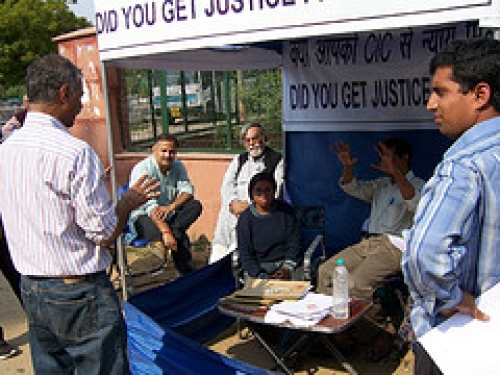 Previously, Arvind had been sternly warned by National HQ to close his illegal "tout shop", but he threw up his hands pleading he was then unemployed and his family would starve.
On 21.October.2011 Kejriwal was sent a final notice to pay a penalty of Rs. 9 lakhs by the Income Tax department on his unreported income which emerged after Delhi Police's vigilance enquiry. On 3.Nov 2011 Kejriwal paid the fine saying "Just because I am paying doesn't mean I accept my guilt. I don't even know what crime I have committed."
On 20.12.2011 the Government accepts Arvind Kejriwal's resignation with effect from 20.Feb.2006 thereby admitting that Kejriwal was not on official sentry duty outside the CIC in 2007.