Idea (png) for the aggregated front-page based on the Notts Redesign
See later version at syndicated frontpage frames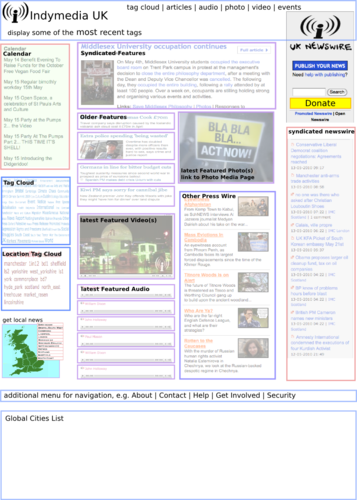 This is the Notts Redesign in words and my comments:
Left Column:¶
- Events summary (currently from protest.net, proposed from
aggregated events feeds)
– Sections (links to other indymedia pages, mainly static)
the links to local sites are easy, but topics are more difficult, as they will wary for different sites. Maybe this could be turned into a tag cloud? And the topics on articles from sites which have them could be pulled in as tags? Similar concerns for 'Major Reports'

- Projects (static)
Most of those have not seen any activity at all for a long time. Is it really worth giving them space on the front page? There is the 'Media Pages' thing in the middle column, maybe this could replace the Projects? Obviously if activity on any of these picks up, they could be included somehow. Apologies if any of them are quite busy and I didn't realise.

- Security Notice (static)
This may need a bit thought, to include new concerns that we never had before.

- Global (feed from global)
Right now that's the cities list, and it takes up a lot of space. We should keep in mind that the footer is an excellent place for this, which could free up some of the premium space for more content.
Centre Column¶
- Features (aggregated features, top x?) (there's just one shown on
the redesign page)
– Selected Photo (how is this chosen?)
Good question, not sure. But it would be good to display Videos and Audio as well. Check the left column here: mindymedia.clearerchannel.org

- Promoted Newswire (not all regions support the 'promoted story' feature?)
This seems like a duplication of the right sidebar newswire. Especially as there is the option to only pull in promoted wires from local sites. Again, frontpage space is at a premium, so I'm not sure about this. Was there some reasoning behind this that I'm missing out on?

– Regional Features (nice idea but with a lot of regions this will
take up a lot of space?)
As far as I understand from what I've been told, the original idea was that those regional boxes would change with which local sites where the most recently active. Correct me if I'm wrong. Assuming that the main feautre wire is aggregated, this again is a duplication.

- Feature articles (more aggregated features)
- Media Pages (links to aggregated media feeds)
Maybe display the latest featured media post(s) with a link instead of a static box?

- Current Major Reports (static / feed? also in left bar?)
Not sure I understand, same questions as Mike, what is it, where does it some from? Isn't it the same as elsewhere in the page?

- Topic Feaures (how are these selected?)
Same questions? Could this work more effectively by just having a tag cloud or two: one most used and another one most recently used?

- Reposts from elsewhere (how does this work?)
I assume this is the 'other press' wire that's been discussed for so long? It could include the 'other media' posts from the hyperactive sites and feeds from Schnews and similar sites. Although I've come to think we need to separate between three different types of other media content:
links to corp media articles that people want to share
user generated content from corp sites / blogs
other cool media projects
Not sure how this could work.
Right Column¶
- Search (all aggregated newswire and feature articles)
– Newswire (open newswire, aggregated, moderated via hidden article
feeds + additional moderation required e.g. duplicates, 'slow'
regional moderation? May require some discussion on common editorial
policy where differences arise)
some of these questions are addressed in the consulta. It needs some discussion I guess, especially regarding dupes.
Additional Pages¶
- Publish Page
– Search Results
– Newswire / Feature Archive
– Media Pages (e.g. Audio / Video Wire)
– Static Pages (already done in mir, may need to be updated e.g.
publish guidelines)
and what about:
- topic/category/tag pages
- regional syndicated pages (not sure if this is feasible, but it might be interesting to include regional pages that include imc and other press coverage for a specific region. So instead of getting all UK news, you could see something like the mindymedia page for manchester, at least for the existing imc regions.)