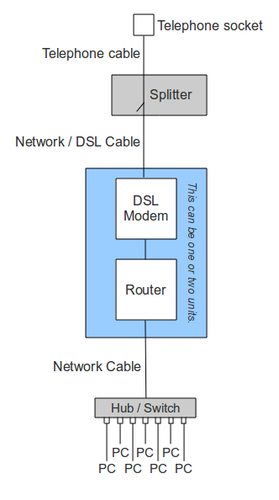 General Hardware Setup¶
Splitter¶
splits the telephone and the DSL signal
DSL

Modem¶

transfers the DSL signal to a network signal.
Router¶
organizes the access of the computers to the Internet and computers in the network.
Hub / Switch¶
distributes the signal to the computers.
General Software Setup¶
Find the Routers IP address¶
Open the Terminal and enter: route -n
Press Enter. It will response the "Kernel IP Routing table". In the column "Gateway" you see the routers IP address (not 0.0.0.0, usually the last line).
Configurate in Web Browser¶
Open Firefox web browser and enter the IP address of the router (e.g. 198.162.1.1).
Enter the password for configuration access.
Click 'connect' or 'verbinden'
Wait: Software configuration takes a while until finished. Have a look at progress on the LEDs on the devices (Modem, Router).
The configuration pages details depend on the router model.
Telekom Speedport¶
Do not use the "Einrichtungsassistent" "Schritt für Schritt", instead look in Netzwerk for something like Anschluss/Zugangsdaten.
Link to Telekom instructions as PDF: hilfe.telekom.de/dlp/eki/downloads/s/Sp...