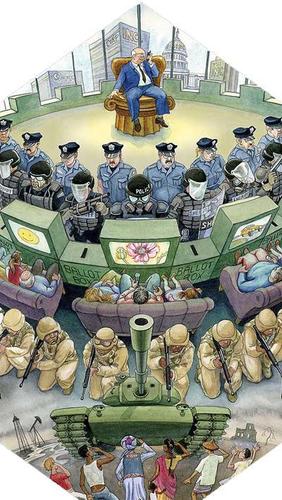 That is a really nice image. Where does it come from?

I have no idea, just seen in a lost post at identi.ca a few months ago, and i wanted to test the upload archive function of CG with something interesting.

So the revolutionary subject is now third world people? And here I was thinking of maoism as something in the dull past…

elijah, the autor of this image seems to be unknown! However, at du somebody was guessing that it looks like Jack Davis Style (MAD magazine!)

www.democraticunderground.com/discuss/d...

I could not find another source with author name -if anybody can find, please email me, I would like to have a bigger print version!

Thanks!

Maoism? R u serious?! Dear dear me. (shakes head). Nazi swastika type trip m8. Yes I do 'know' by da way…but a few folks here appear to need to check out anarchy for real and live with the (UK) type Peace Convoy. R. Those were the days. :)

Looking to set up various projects in India, Manali area, ona workers co-op basis by the way…possibly military surplus store (were talking a survival situation here!), and possibly a full on rave club. Anyone interested give me a shout. Cheers.