[en] English version
[fr] Version française en bas de page
[es] Versión andaluza tras la francesa
[pt] Versão em Português
[de] Deutsche Version
---
[en]
Members of a committee can be
part of the parent group
from another group
unaffiliated individuals
Access (see chart below)
Group members have access to all committees
Individuals not in the group only have access to their respective committees
Coordinating council
h2. Coordinating council is a unique special committee. When a group has coordinating council, then only a member of that council may administer the group. Otherwise, any member of the group may do so.
[fr]
Les commissions sont des sous-groupes
Les membres d'une commission peuvent être des
membres du groupe parent,
membres d'un autre groupe,
utilisateurs non affiliés à un groupe.
Droits d'accès (voir dessin ci-dessous)
Les membres du groupe ont accès à toutes les commissions,
les utilisateurs n'étant pas membre du groupe n'ont accès qu'à leurs commissions respectives.
Conseil de coordination
Le conseil de coordination est une commission unique spéciale. quand un groupe en possède un, alors seul un membre de ce conseil peut administrer le groupe. Sinon, n'importe quel membre peut s'en occuper.
[es]
COMITES
¶
Los miembros de un comité pueden ser
Parte de los miembros del grupo
Miembros de otro grupo
Personas no afiliadas
Derechos de acceso (ver tabla abajo)
Los miembros del grupo tienen acceso a todas los comites
Personas de un comité pero no del grupo sólo tienen acceso a sus respectivos comités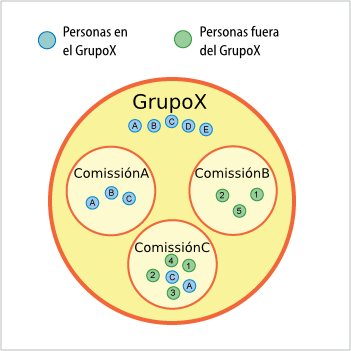 Consejo de Coordinación
Consejo de Coordinación es un comité especial único. Cuando en un grupo hay Consejo de coordinación, sólo las personas que pertenezcan a dicho Consejo podrán administrar el grupo. De lo contrario (si no hay Consejo de Coordinación), cualquier miembro del grupo puede hacerlo.
COMITÊS¶
Comitês são subgrupos.
Membros de um comitê podem ser
Parte dos membros do grupo
Membros de outro grupo
Pessoas não afiliadas
Acesso (veja tabela abaixo)
Membros do grupo têm acesso a todos os comitês
Pessoas de um comitê, mas não do grupo só têm acesso a seus respectivos comitês.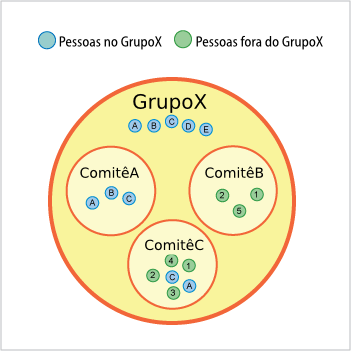 Conselho de coordenação
O Conselho de Coordenação é um comitê especial único. Quando um grupo tem um conselho coordenador, apenas os membros deste conselho administram o grupo. Caso contrário, qualquer membro do grupo pode fazê-lo.
[de]
◄ Zurück zum Inhaltsverzeichnis
Komitees sind Untergruppen¶
Mitglieder eines Komitees können
Teil der Muttergruppe sein
aus einer anderen Gruppe sein
unabhängige Individuen sein
Zugriff (siehe Abb. unten)
Gruppenmitglieder haben Zugriff auf alle Komitees
Nichtmitglieder haben nur auf die jeweiligen Komitees Zugriff an denen sie Teilhaben
Koordinierendes Gremium
ist ein einmaliges, spezielles Komitee. Wenn eine Gruppe ein Gremium hat, kann nur ein Mitglied dieses Gremiums die Gruppe administrieren, ansonsten kann dies jedes Gruppenmitglied