Public Wiki
---
Escucha la Transmision Radial Anti-Racista, Descolonizadora de Medios
Caminantes:¶
(english below)
da click en el link a los programas radiofonicos!!!
www.archive.org/search.php?query=medios...
La Red Medios Caminantes esta haciendo una Transmision Radial Conjunta
bilingue Espanol/Ingles. El pasado 12 de Octubre, conocido por algunas como el
dia del "Descubrimiento" de America por Cristobal Colon y por otros
incluyendo nosotrxs como al dia de los pueblos indigenas y un dia para
declarar nuestra resistencia al colonialismo y al racismo que vivimos en
este continente llamado America. La idea es reunir voces como una accion
colectiva para denunciar las politicas estatales racistas a lo largo de
Estados Unidos desde Arizona
hasta Alabama. Tambien celebraremos nuestra resistencia y cultura
enfrentando el sistema racista.
En colaboracion con companeras y companeros en Mexico transmitimos
reportajes de grupos comunitarios en Mexico enfocados en el creciente
movimiento que rechaza la Guerra Anti
Drogas, temas de migracion y resistencia contra mega proyectos.
En particular, cubrimos:
-Una revision general del estado actual de politicas migratorias a un ano
de la aprobacion de la Ley SB1070 en Arizona. Hablaremos sobre otros
estados que han promovido leyes similares como Alabama y Georgia
-Explicaremos en que consiste el Programa Comunidades Seguras, y del como
la colaboracion entre los agentes de inmigracion y la policia afecta
nuestras comunidades poniendonos en riesgo al contrario de
brindar seguridad.
-Afirmaremos los derechos de las personas al libre transito, repudiando las
fronteras que nos dividen y las politicas gubernamentales que nos
criminalizan. Ningun ser humano es ilegal!!!
Los grupos que estan participando son:
PanLeft Producciones, Tuscon, Arizona
VozMob, Los Angeles, California
Marea Creciente, Hermosillo Mexico
Sonidera, Arcata, CA
Justicia Migrante, Vermont
Democracy Now en Español NY, NY
Families por la Libertad de Freedom: NY, NY
Radios Populares: Chicago, Illinois
Unidad Latina en Accion, New Haven
Philladelphia, radio against police brutality
Medios Caminantes fue creado en 2010 en la Conferencia de Medios Aliados
con el objetivo de brindar un espacio para individuos y movimientos
sociales que comparten un fin comun: *El uso de medios independientes
como herramienta organizativa. Puedes encontrar mas informacion sobre la red
aqui: we.riseup.net/amc-latina*
**
*Join the Anti-Racist Decolonizing Radio Broadcast. Listen the podcast!
www.archive.org/search.php?query=medios...
The Medios Caminantes network put together a collaborative bilingual
Spanish/English Radio Broadcast today, October 12th, a day which some call
"Columbus Day" and we celebrate as Indigenous Peoples Day. To honor this day
we are bringing together a critical mass of voices as a collective action to
show our resistance to the colonialism and racism that we live with in this
continent called America. The anti-Columbus Radio Broadcast will feature
discussions and denouncements of racist state policies across the US from
Arizona to Alabama. We will also celebrate our resistance and culture in the
face of this systemic racism. In collaboration with compañeros y compañeras
in Mexico we will broadcast reports from community radio groups in Mexico
focusing on the growing movement organizing against the Drug War, related
migrant issues and resistance to mega-projects.In particular, we will:
-Provide an overview of the state of immigration issues one year after
the passage of SB1070 in Arizona and examine similar laws in Alabama &
Georgia
-Learn about the Secure Communities program and how increased
collaboration between immigration and police affect our communities and
make them less secure.
-Affirm the rights of all people against borders that try to divide us
and governments that criminalize us. No One is Illegal!
This broadcast is brought to you by:
PanLeft Producciones, Tuscon, Arizona
VozMob, Los Angeles, California
Marea Creciente, Hermosillo Mexico
Sonidera, Arcata, CA
Democracy Now en Español NY, NY
Families For Freedom: NY, NY
Justicia Migrante, Vermont
Radios Populares: Chicago, Illinois
Unidad Latina en Accion, New Haven
Radio against police brutality, Philladelphia
Join us in this radio broadcast and celebrate resistance to colonialism
and racism!
In solidarity
Medios Caminantes
Medios Caminantes was created at the Allied Media Conference in 2010 to
provide a collective space for people and social movements who all share
h2. a common focus: The use of independent media as a tool for organizing.
Support the
AMC

and Medios Caminantes with a tax-deductible donation…


MAKE

SURE

you write "Medios Caminantes" in the Memo Line.¶

We want to invite one person to attend the Allied Media Conference to inform the group about the work that the students in Arizona are doing in defense of Ethnic Studies.
We have created these posters as part of the Graphic Campaign "Immigrant Know your rights" to support latino activists and media makers in their journey to attend the Allied Media Conference. For every 15 dollars you donate, you will receive a poster from the "Immigrant Know your Rights" series and if you donate $50 you will get all five amazing designs.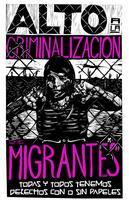 Santiago Armengod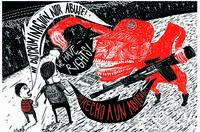 Josue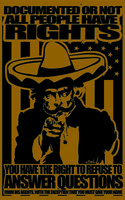 Chaí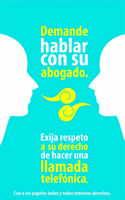 Daniel Hernández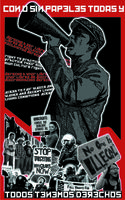 Carlos
We are striving to make the workshops during Medios Caminantes/Allied Media Conference accessible to those who don't have many resources, including media activists coming from Mexico, as we believe all have the right to produce their own media. Therefore, we are calling on you to help make this dream a reality and donate money so that we can support all these activists. You can go in to our website to make a tax-deductible donation donation. MAKE SURE you write "Medios Caminantes" in the Memo Line. For every 15 dollars you donate, you will receive a poster from the "Immigrant Know your Rights" series and if you donate $50 you will get all five amazing designs.
Donation details:
Shipping is included in the price of the package. Please allow 2 weeks for shipping. Donations can be made at

Follow directions to make a secure donation through Paypal. Please Be SURE
you write "Medios Caminantes" in the Memo Line.. Additional donations
are welcome and appreciated. Send us an email at grafikadeabajo@gmail.com with your address and amount donated so we can send you the posters.
Your support and solidarity will help strengthen this network of social justice media movements and allow us to share skills between immigrant communities in the US and Latino media makers!
Medios Caminantes in the Allied Media Conference
The 2011 Allied Media Conference is 6 weeks away! You can find more information about the work of Medios Caminantes in our website. You can also find information about the posters that we have created as part of the Graphic Campaign "Immigrant Know your Rights" to support Latino activists and media makers in their journey to attend the Allied Media Conference. You can purchase these posters through our website we.riseup.net/amc-latina
These are the sessions that comprise the Medios Caminantes track:
Grafica de lucha y movimientos sociales.
Caucus Medios Caminantes: Reunion organizativa para crear solidaridad entre moviemientos sociales
Utilizando Medios=Reportando Abusos
Demystifying Radio:RadioWaves RadioParts
Make A Podcast
Put Your Hands on the Radio
Radio Summer: Training the Trainers
AMC-FM Radio Broadcast: Hear It. Be It.
Streaming Social Movements
From Raw Sounds to Smooth Airwaves
Flipping the Script on Detention & Depor
Fundraising to support transportation, housing and supplies
We are in the stage of raising money to support people with transportation, housing and supplies so they can attend the Allied Media Conference. Please, if you know of people, collectives, or organizations interested in being part of, or supporting this work, let us know. We seek to be a bridge between social movements in Mexico and the US, by supporting the production of independent media in Mexico and immigrant communities in the USA along with the creation of a space for collaboration. Also if anybody is interested in being a Spanish/English interpreter during the conference, please let us know. And please help spread this information widely.
Medios Caminantes, Immigrant Voices
Campaña Gráfica "Inmigrante Conoce tus Derechos a través del arte!"¶
Gracias a todxs aquellxs que participaron en la Campaña Gráfica "Inmigrante Conoce tus Derechos a través del arte!
Aquí les presentamos los diseños que fueron impresos en los talleres en México. Ya hemos podido dejar paquetes de carteles en México, en Tucson AZ para apoyar a los compas que estan luchando por salvar los Estudios Etnicos, en Phoenix AZ. A través de la venta de los carteles podemos apoyar el pasaje de compañeros de Arizona. México y otros Estados a asisitir a la Allied Media Conference. A quellxs que quieran apoyar la recaudación de fondos por favor escribir a grafikadeabajo@gmail.com para darles detalles.
Gracias a todxs por su solidaridad!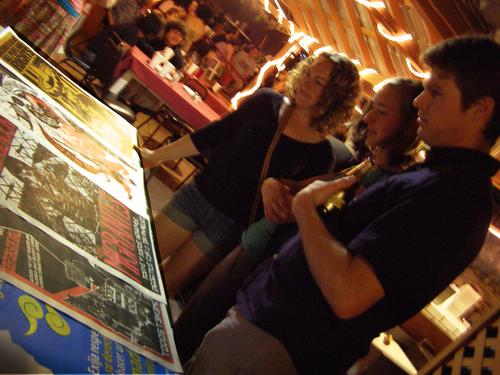 Carteles en Evento en Tucson AZ para apoyar la lucha de Estudios Etnicos
Para saber cuáles son los Derechos que tenemos como Inmigrantes en estados Unidos visita este link el trabajo de la Coalisión de Derechos Humanos en Tucson, AZ. Y para informacion sobre derecjos de Inmigrantes en Mexico visita este link del trabajo de Sin Fronteras en la Ciudad de Mexico.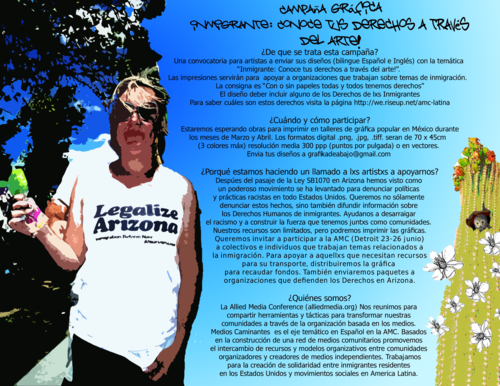 ¿De que se trata esta campaña?
Una convocatoria para artistas a enviar sus diseños (bilingue Español/Inglés) con la temática "Inmigrante: Conoce tus derechos a través del arte!". Las impresiones servirán para apoyar a organizaciones que trabajan sobre temas de inmigración. La consigna es "Con o sin papeles todas y todos tenemos derechos". El diseño debe incluir alguno de los Derechos de lxs Inmigrantes. Para saber cuáles son estos derechos visita la página we.riseup.net/amc-latina
¿Cuándo y cómo participar?
Estaremos esperando obras para imprimir en talleres de gráfica popular en México durante los meses de Marzo y Abril. Los formatos digital .png, .jpg, .tiff. seran de 70 × 45cm (2 colores máx) resolución media 300 ppp (puntos por pulgada) o en vectores.
Envia tus diseños a grafikadeabajo@gmail.com
Favor de incluir una licencia para los diseños, (acá en Mexico regularmente diseñamos
una licencia específica según el caso, pero en general preferimos si es
licencia copyleft o de dominio público).
Los diseños deben tener un margen de 1.5 cms en blanco por cada lado,
sino no entran a la imprenta, la pinza no tiene de dónde agarrarse.
La gráfica sera publicada en una página de internet para promover su
reproducción.
¿Porqué estamos haciendo un llamado a lxs artistxs a apoyar este proyecto?
Despúes del pasaje de la Ley SB1070 en Arizona hemos visto como un poderoso movimiento se ha levantado para denunciar políticas y prácticas racistas en todo Estados Unidos. Queremos no sólamente denunciar estos hechos, sino también difundir información sobre los Derechos Humanos de inmigrantes. A través del arte lograremos que esta información sea visible para todxs. Ayudanos a desarraigar el racismo y a construir la fuerza que tenemos juntos como comunidades.
Nuestros recursos son limitados, pero podremos imprimir las gráficas. Medios Caminantes quiere invitar a participar en la AMC (23 al 26 de Junio en Detroit) a organizaciones, colectivos e individuos que trabajan temas relacionados a la inmigración. Para apoyar a aquellxs que lo necesitan distribuiremos las gráficas para recaudar fondos. A través de donaciones, subastas y rifas esperamos poder recaudar suficientes recursos, y si tenemos éxito podremos imprimir más gráfica y apoyar otros proyectos que lo necesiten. Tenemos planeado realizar una caravana con activistas de medios desde México. También enviaremos un paquete de carteles a organizaciones que defienden los Derechos en Arizona.
¿Quiénes somos?
La Conferencia de Medios Aliados (Allied Media Conferencia – AMC por sus siglas en inglés) cultiva estrategias para un mundo más justo y creativo. Nos reunimos para compartir herramientas y tácticas para transformar nuestras comunidades a través de la organización basada en los medios. Cada conferencia se construye a partir de la anterior y planta la semilla para la siguiente.
Medios Caminantes es el eje temático en Español en la AMC. Basados en la construcción de una red de medios comunitarios en español, este panel promueve el intercambio de recursos y modelos organizativos entre comunidades de hispano hablantes, organizadores y creadores de medios independientes. Medios Caminantes está trabajando para la creación de solidaridad entre inmigrantes residentes en los Estados Unidos y movimientos sociales en America Latina.
Graphic Campaign: "Migrant: Know Your Rights Through Art!"¶
What is this campaign about?
The campaign is a call for artists to submit their work with the theme "Migrant: Know your Rights Through Art!". The prints will support organizations working to address immigrant issues. We want to cover:
-Know your rights
Communicate what our rights are as immigrants. No more abuses, Let's spread information through art!
-Fighting Racism
Uprooting racism through art!
-We recognize our difference, yet we find our common grounds, and we stand together!
When and how?
We'll be accepting submissions during March/April, and we'll be printing in a radical graphics shop in Mexico.The format is 27″ × 16″ with up to 2 colors maximum in digital format .png, .jpg, .tiff. 300dpi (dots per pixel) or in vectores. Contact grafikadeabajo@gmail.com we.riseup.net/amc-latina
All of the images that we receive will be published on one same website to encourage their reproduction as many times as possible.
Why are we calling artists to participate in this project?
After the passage of SB1070 in Arizona, we have seen a strong movement rise to denounce racist policies and practices all over the US. We want to denounce these facts and also spread information about the inherent rights of immigrants. Help us to uproot racism and build our strength together as communities!
Our resources are limited, however we will print the art. Medios Caminantes wants to invite organizations, collectives and individuals working to address issues related to immigration to attend the AMC (June 23-26 in Detroit, MI). To make possible for everybody to attend, we will distribute the art prints between those who need economical support. Through donations, auctions, and raffles we expect to raise resources, If this endeavours are successful, we will be able to make more art prints and donate to more projects that need support for their own causes.
We want to raise money for our caravan, a school bus that runs with veggie oil from South Mexico. All these endeavours will make this possible.
Who we are?
The Allied Media Conference (alliedmedia.org) is a laboratory for media-based solutions to the matrix of life-threatening problems we face. Since our founding in 1999, we have evolved our definition of media, and the role it can play in our lives – from zines to video-blogging to breakdancing, to communicating solidarity and creating justice.
Medios Caminantes is the Spanish language track participating in the AMC. We are seeking to support the promotion of independent media and expressions based in the organizing of Latino and Caribbean immigrants communities living in the United States.
Medios Caminantes Voces Inmigrantes¶
Bienvenid@s al sitio de coordinación y organización
del segundo track en español que se realizara durante la Allied Media Conference, en Detroit, Michigan del 23 al 26 de Junio.
Este espacio nace del interés y esfuerzo colectivo de varias personas y movimientos sociales que nos enfocamos en un aspecto común:
los medios independientes como herramineta de organización
Objetivo:
Compartir diferentes experiencias y estrategías para crear un espacio de capacitación y articulación a través de una red que fortalezca el trabajo mediatico desarrollado por grupos de personas inmigrantes de Latino América y el Caribe, que hablamos español y que defendemos nuestro derecho de vivir con dignidad.
Metodología:
Por medio del método de educación popular y talleres práctico-participativo queremos compartimos nuestras capacidades y experiencias, encontrando objetivos en común y explorando en las diferentes estrategias, generando así las condiciones para la articulación y el fortalecimiento de nuetros proyectos de medios independientes.
Funcionamiento de este sitio:
Ser miembro del grupo para participar.
Conocer el contenido del sitio
Participar con comentarios, opiniones, sugercias, propuestas, criticas, roles y responsabilidades dentro de tus posiblidades y las de tu grupo u organización.
Comunicar necesidades y preocupaciones.
*El directorio con mails y números de teléfono no es público, si necesitas comunicarte con algún miembro puedes hacerlo a através de solicitarlo enviando un mail al grupo medioscaminantes@lists.aktivix.org
ENGLISH
This space was created from the collective interest and effort of various people and social movements who all share a common focus: how independent media can be a tool for organizing.
Objective: Share different experiences and strategies in order to create a space for capacity-building and articulation that strengthens the media-based work of Spanish-speaking Latin-American and Carribean immigrant groups and organizations who actively defend the right to live with dignity.
Methodology: Through the use of popular education techniques and practical and participatory workshops we wish to share our skills and experiences, find common objectives, and explore different strategies for generating the necessary conditions for the articulation and strengthening of our media projects.
How this site works:
Must be a member of the group to participate
Read the pages that have been created: Description, Objective, Methodology, Workshops and Forum, Financing/Funding, etc.
Participate by adding comments, opinions, suggestions, proposals, critiques, roles and responsibilities you and your group/organization might be able to fill
Communicate needs and worries
The email and phone directory is not public. If you need to communicate with a member, you can do so via this group or by asking for the directory. Write to Medioscaminantes@lists.aktivix.org